As we enter December and look forward to the coming New Year, this is a time when many religions and cultures around the world celebrate major holidays. 2020 has been a really hard year all across the world. From pandemic to social unrest, from economic downturn to the food and housing insecurities created by all of, it has been an exceptionally trying time.
Now is when kindness, empathy, compassion, and understanding are more important than ever. We all need to try to come together, in spirit, to support one another. While most of us are having to stay physically apart to help protect each other from this deadly pandemic, it doesn't mean that we can't still be there to help one another. So many right now are suffering more than ever: fear of catching this horrible disease, anxiety over how to pay the bills due to lost jobs, loneliness at being isolated.
Unlike in the past, our global community is more connected than ever. Reach out to one another. Let people know that you care. Check on your family and friends. And if you're one of the ones that is struggling, reach out to others* and ask for help. There is no shame in it. This is hard on everyone. Be kind and gentle with yourself as much as you can, because right now no one is at their best.
If you are able, donate. Donate money to your local food banks. Donate gently used items to local good works organizations. Donate your time to places that you have the ability to assist. There are many places that you can help while still remaining within your own home if it isn't safe to go out (whether for yourself or for the community at large). Check with local volunteer organizations, they are more than happy to help match you up with somewhere that will suit your unique circumstances and abilities.
Please be kind. Be patient. Show grace. Understand that it isn't the cashier's fault that the store is out of the item you need. Realize that the delivery driver is just trying to survive, the same as you. Recognize that your favorite restaurant has had to pivot, and pivot, and pivot yet again to try to remain open in one fashion or another so they can continue to serve you. Support local businesses as much as possible.
Listen to the public health experts. Follow the advice of the scientists and medical personnel that are working at a feverish pace to understand and find treatments for this new disease. Yes, the advice changes from time to time. That's because this is brand new. That's how science works. As they learn about it, they figure out what works and what doesn't. They are doing their best. Help them.
And please, hold a thought for our front line health care workers. They are exhausted. Please do your part. Stay home if you can. Wear a mask if you need to go out. Don't gather in large groups. Wash your hands.
We will get through this, together. For the pandemic, hope is on the horizon. There are so many different vaccines that are showing great promise, at this point. As for the rest, if we hold to one another, if we care about each other, we can pull through. Humanity has always shown its best when things have been really tough but we've helped each other. Hold on. We'll make it.
Dolby, myself, and all of our moderators, wish you and yours a safe and happy holiday season. May the new year treat us all well.
#Happy Holidays
#No School Snowdays
#Joyous Kwanzaa
#Merry Christmas
#Happy Hanukkah
#Blessed Yule
#Happy Krampusnacht
#Blessed Solstice
#Happy New Year
#Howly Wolfenoot
#Touched By His Noodly Appendage
#Joyous Saturnalia
#Happy Festivus
* If you are struggling with your mental health and feel like you don't have anyone else you feel like you can reach out to, reach out to me (Cairenn). I am very open about my own mental illnesses (anxiety and clinical depression) and thus you needn't worry that I will judge you for your own struggles. My PMs are always open.

Welcome to The Elder Scrolls Online v6.2.5 and the Markarth DLC Game Pack, featuring the epic conclusion of the Dark Heart of Skyrim! Markarth introduces not only the new zone of The Reach, but also adds two world bosses, two delves, and an exciting solo Arena that is sure to challenge you. We've also added several new collectibles, item sets, achievements, and titles for you to acquire, in addition to new Antiquities that can only be dug up in The Reach.
UI Changes:
Authors looking for details on 100033 changes please see this thread by sirinsidiator.
General
A small number of UI elements in the Japanese and French game client are currently in English or are not visible at all. This should be fixed in an upcoming incremental patch.
The map pin for your character will now appear correctly while in the Dragonguard Sanctum.
Added searching and subcategories to inventory screens (Inventory, Banks, Mail, etc.) when using a keyboard.
Fixed an issue that could occur when looking at an achievement while it's earned and also have a text search specified.
Gift items in the gifting lists now show the quality color in their names.
Fixed an issue that caused some quests to remain visible in the map's quest panel when subsequently changing the view to another map.
The icon for the Hungering Void Shield now matches the rest of the weapon set.
Updated icon silhouettes for unknown Antiquities and locked collectibles and outfit styles to be more visually distinctive.
Fixed an issue that would cause a default icon to appear when affected by a Vampiric Vitality.
You can now right click unbound items to manually bind them to your character.
Fixed a UI error that would occur if you had an ESO Plus membership and attempted to purchase a partially owned bundle.
Addons
Added support for additionalFilter overriding by AddOns with the addition of subfilters to keyboard inventory.
Added a new API function for getting a valid unit's exact world position for the purpose of tracking or rendering absolute positions:
Lua Code:

GetUnitRawWorldPosition

(

unitTag

)


Returns:

Alliance War
Fixed an issue where the "Enter Campaign" text that appears when queuing for a campaign while in a group would not display the campaign type correctly.
Fixed an issue where the battering ram UI could continue to display after leaving to go to a Battleground.
Crafting
Added quest tracking to crafting screens that becomes automatically enabled when you have a crafting quest (certification, writs, master writs). The tracker will inform you of your quests that can be completed at the station, and marks what materials or selections need to be picked to complete the active quest.
Recipe names that are too long will now wrap to a second line instead of truncating.
Added the number of Transmute crystals refunded when deconstructing reconstructed items to the crafting loot stream.
Fixed an issue in the Russian game client where text in Master Writ tooltips could get cut off.
Gamepad Mode
Added searching, filtering, and sorting to banks and Guild banks in Gamepad Mode.
Fixed an issue where certain Smithing screens would display the incorrect crafting type after switching between keyboard and Gamepad modes.
Fixed several issues caused by switching between Gamepad and keyboard mode while in the middle of a craft.
Fixed an issue where the loot stack count could get cut off in certain languages.
Guilds & Guild Functionality
Owned Guild Trader names will now display properly in various Guild menus.
Help & Tooltips
Added tooltips to the filter checkboxes in the Alchemy, Enchanting, and Provisioning screens.
Added "Veteran" to the Descriptions for all Undaunted Monster Mask Outfit Styles that require the dungeon be completed on Veteran difficulty, and fixed other minor inconsistencies in Monster Mask Outfit Style tooltips.
Fixed an issue where the Maximum Stamina, Stamina Recovery, Weapon Damage, Armor, Spell Damage, Spell Critical, and Critical Resist enchantments were not properly localized. This also fixes an issue where the Maximum Stamina enchantment's effect would be displayed as "Max Stamina" in item tooltips.
Added several new help entries.

Welcome to The Elder Scrolls Online v6.1.5, introducing the Stonethorn DLC Game Pack and Update 27! This latest DLC features two new 4-player dungeons – one of which includes a Hard Mode for each boss – and is accompanied by several new item sets, collectibles, achievements, and titles.
In the base game, we've added character pathing to the Housing system, which allows you to create custom paths for pets, mounts, and assistants. This update also includes several performance improvements, optimizations, and stability enhancements, in addition to a large audit for all item sets to reduce their implications on performance.
UI Changes:
Authors looking for details on 100032 changes please see this thread by sirinsidiator.
General
Currencies are now sorted by name rather than amount.
Duplicates of loot drops that can only be obtained once are now filtered out of the loot window.
Fixed a UI error that could occur when switching from the map to the journal.
Fixed an issue where certain Personalities would cause camera moving in UI menus.
Fixed an issue where the preview option was available in several menus while swimming, even though you can't preview while swimming.
Updated an error message shown when attempting to log into ESO with a platform-specific account from outside that platform to include Stadia.
Fixed an issue where various character sliders would not be initialized to the correct values for the selected character when performing a race or appearance change.
Updated the Cyrillic handwritten font to be more legible.
Updated Mounts found in the Collections, Housing Editor, and Crown Store with new categories based on their movement type to make them easier to find.
Crafting
Fixed an issue in the Alchemy screen where traits in your ingredients list would be incorrectly highlighted after removing an ingredient from the crafting slot.
Gamepad Mode
Updated the Fence to only display a confirmation when fencing Epic or higher quality items.
Added controller icons for the Left Stick Hold and Right Stick Hold actions.
Fixed a UI error that prevented you from changing gamepad keybinds from the controls menu while automatic input switching was enabled.
The controls menu will now display icons for Gamepad keybinds rather than text.
Fixed a UI error that would occur when attempting to send a returned gift to an empty UserID/Gamertag.
Tooltips
Fixed an issue where dye tooltips could be displayed in awkward locations.
Fixed an issue where long text at the top of item tooltips could go under the icon.
Fixed an issue where siege weapon tooltips would not display the correct abbreviation suffix in German.

Welcome to The Elder Scrolls Online v6.0.5 and our next Chapter: Greymoor! Explore the icy mountains and wild forests of the Nords as you venture forth into Western Skyrim. The land is harsh and unforgiving, much like many of its people and its lords. High King Svargim welcomes you to the capital city of Solitude gruffly, but you'll have the opportunity to earn the respect of the Jarls and the swordthanes of Western Skyrim—if you survive.
In addition to climbing over the frozen peaks of Western Skyrim, you'll have the opportunity to delve into its darkest ruins and greatest secrets. Find the hidden entrances to legendary Blackreach, the subterranean realm beneath the lands of Tamriel and explore the darkling caves and forgotten ruins deep below Western Skyrim's surface. Two wildly different lands, stacked one on top of the other, each threatening … and threatened.
But there is more to Greymoor than defeating evil! Try your hand at our brand new Antiquities system to unearth a ton of legendary relics scattered throughout Tamriel. Between furnishings, Mythic items, a mount, and even siege weapons, there truly is something for everyone. If battle is more your thing, get together with your strongest allies to take on Kyne's Aegis, our newest 12-player Trial.
Greymoor also features 10 new item sets (including Perfected versions only found in the Veteran Kyne's Aegis Trial), and of course new Collectibles, Dyes, and Titles. Exploring Blackreach also uncovers new crafting ingredients!
Update 26, which is a free update as part of the base game, includes several other additions and features as well. First, Vampires have received significant changes this update, with a focus on improving the entire experience as a Vampire. If you currently play a Vampire, don't worry: any experience required for progressing the Skill Line itself has not changed, and you will keep your current ranks. Update 26 also brings several optimizations to both the server and client to improve game performance. You'll also find several updates to Imperial City, and the addition of Precision Editing Mode for housing enthusiasts.
Finally, we're excited to welcome all of our Russian players who can enjoy localized Russian text in-game with this update. You can expect this update to be approximately 6.64GB. Thank you, and enjoy your time in Greymoor!
UI Changes:
Authors looking for details on 100031 changes please see this thread by sirinsidiator.
General
You will now receive the correct error message when losing an internet connection.
Improved the reliability and accuracy of quest-related icons.
Added additional messaging for active in-game events so it's clear when an event is active, and how much time is left.
Adjusted the position of the "Go To Entrance" button in the House Purchase screen to avoid collisions with long zone names.
Fixed an issue where some supported text characters would not display correctly in the Japanese game client.
Fixed an issue where the Removing from Area timer would be short instead of long with a completed dungeon.
Updated the descriptive text for the Reach-Mage's Ferocity to better match the style of similar items.
Fixed an issue where Heroism and Timidity were lacking their own icons in the Alchemy UI.
Fixed issue that would cause the keybindings in the End User License Agreement to not function.
The gold value of an item on the tooltip will now be properly separated by punctuation when 1,000 or higher.
You are no longer prompted to save changes or warned of lost changes when using a race or appearance change token if the character hasn't been changed.
Gamepad Mode
Fixed multiple UI errors that could occur when using the Automatic setting for Gamepad mode and swapping directly between Gamepad and Keyboard menus.
Fixed an issue where a social list, such as a Guild Roster updating, would cause your position to be reset in the list.
Fixed an issue where going to a menu directly from an Outfit Station would not warn you about losing your changes.
Fixed a UI error that could occur when leaving an Outfit Station by opening your map.
Guilds & Guild Functionality
Added Russian as a language option to the Guild Finder.
Fixed an issue where the selected guild in the Guild Store screen would sometimes change without your input.
Fixed an issue where items could appear in the Guild Store Listing screen with a 100+ month duration when they were actually nearing expiration.
Help & Tutorials
Searching in the help section will no longer result in some entries showing up as duplicates.
Created new help entries for Werewolves and Vampires.
Maps
Adjusted the areas where the Abah's Landing city map will display when outside but near the city.
Tooltips
Updated the tooltip text for the Undaunted skill line to be more informative.
Added tooltip text to lockpicks.
Hello everyone,
there are some news about the ESO-Database.
In the last months there were some updates including the transfer to a new server, some internal changes of the parser and the release of the new client that also runs on Mac.
Furthermore I added a small script to the guild search, which you can insert directly in the ingame chat, which will then open the guild recruitment page of the guild. (
https://www.eso-database.com/en/guild-finder/
)
Recently, the antiquities have finally been added. You can find them on your character profile under the tab "Statistics / Information". There you will find the antiquities sorted by category and with the individual information such as the number of excavations, the number of codex entries found, etc.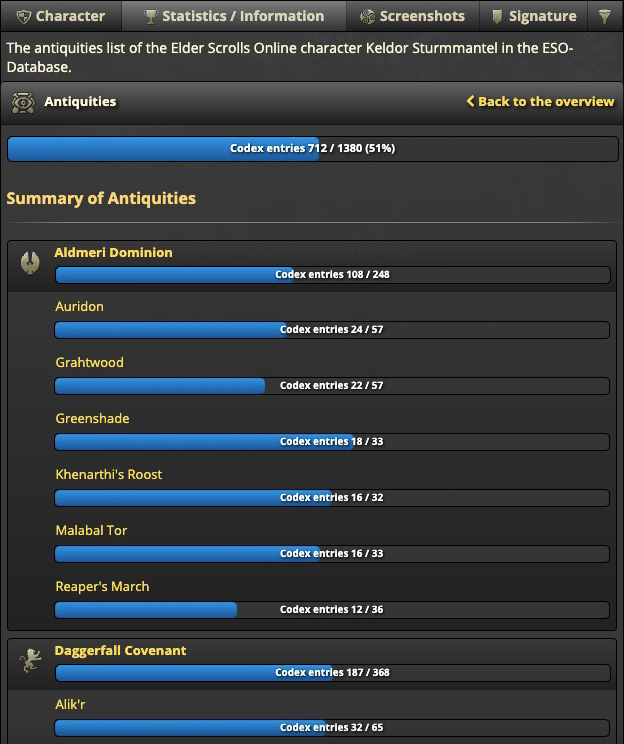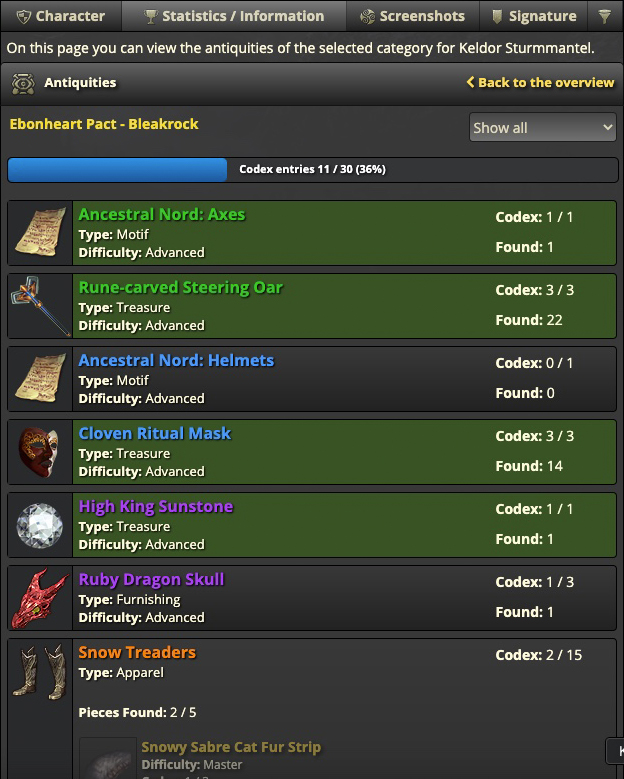 There is also an overview of all antiques including codex entries at
https://www.eso-database.com/en/antiquities/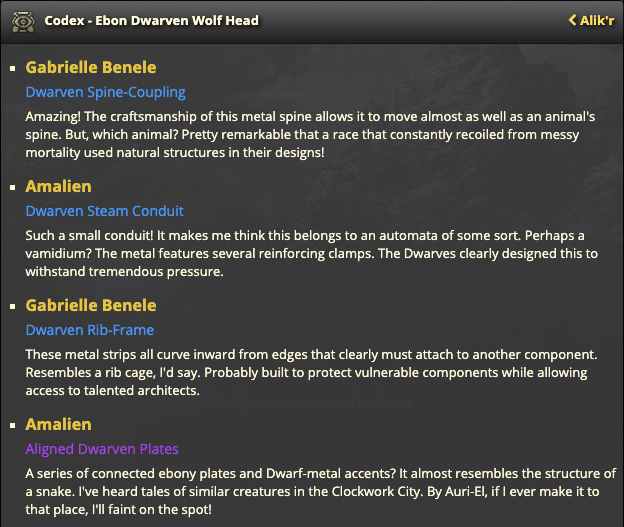 What's next?
There are already many wishes from you on my TODO list and here I would like to give you a little insight what will come the next time.
Soon the sticker book will be integrated.
As some of you have probably noticed, ESO Leaderboards is redirecting to Woeler's and Alcast's new project ESO-Hub. I have spoken with Woeler and will be moving the leaderboard view to the ESO-Database. Since the data was already coming from the ESO-Database API, everything needed is there.
I try to support the Russian client as much as possible. Currently it is not supported at all.
An fishing overview.
A little later there will be a redesign of the ESO database.
I am currently working on a complete overhaul to Isjusta Writ Helper.
Planned new features:
changed the writ panel to look more like the crafting result box.
dynamically sized writ panel. The writ panel height will be sized according to how many lines are in it.
scanning for "consumables" writs will be done on first load, reloading ui, at end of interaction if a new writ is acquired.
Due to how smithing crafting information is built from the current station being used, those writs are scanned at first use of each smithing station.
the pre-station scan is used to create a list of items the writs need to be crafted and build a withdraw list for the bank if any of those needed items are in the bank.
turning in writs will automatically complete upon opening the corresponding turn-in chest.
When I am satisfied with it, I will release it as non-beta. This will require it to be added to a new ESOUI addon post.
Now with accountwide settings

Disclaimer
Author Credit is given on a simple basis. We credit the person who sends the mod in, and says "I wrote this" if you see your work here, and its credited to someone else contact us first using the link at the bottom of the site. Please remember more than one person can make the same mod.