Open the UI with /csps or specify a keybind.
Main features:
- Save your build for after update 29 or for character respeccing
- Import/export your build data
- Create and manage profiles for the new champion system 2.0
-- Profiles can be saved for the whole account or for the current character
- NEW FEATURE: text-based import for the new champion system (see below)
The coming update 29 will reset skills and championpoints. This addon is intended to save your skills and CPs before the upcoming update and, afterwards, put them back the way they were (giving you the option to edit them first). You can also use this addon to create profiles for respeccing your character or import/export builds.
Saving data:
1. Click on 'Read current data'.
2. Optionally, click on the plus/minus next to your skills to add/remove a skill point. (You will be able to edit your skills later, too.)
3. Click on 'Save shown data'. All skills, attributes and CP are saved.

Loading saved data (see below for respeccing):
1. Click on 'Load saved data'.
2. At the top, select which data you want to apply (skills, attributes, CP).
3. Optionally, click on the plus/minus next to your skills to add/remove a skill point.
4. Click on 'Apply loaded data'. Your selected data is applied.
5. Click on the options button (topright corner) to toggle the hotbar. The hotbar skills have to be applied separately.
Create profiles for respecing:
You may use the plus and minus right of the profile dropdown box to create/delete new profiles. If you want to use this for respeccing you can delete all skills from the build that shall not be changed - this saves storage space and makes the profile more clear to read. Just go to the shrine and get into morph respec mode to apply the profile - you don't need to reset all your skills to do that.
Import/export data:
1. Click on the options button to open the import/export section.
2. Select the platform (for now, eso-skillfactory.com only)
3. Generate a link from your current displayed build and copy it to your browser (ctrl+c).
4. Insert a link from your browser (ctrl+v) and import it as your new build.
5. You will be able to edit the build between importing and applying it.
The "old" CPs are saved and still shown after update 29, but won't be applied for they can't be transferred to the new system. But there is a new easy way to set your CP:
Champion point import (text based):
-- If you find a useful cp setup in a guide etc. you can now easily import it into the game.
-- No need to manually enter your champion points - just copy them into the addon.
-- As long as there is a number followed by the English name of a champion skill, the addon will automatically import the champion point distribution you copied.
-- If the skills in your text are presented in the opposite order (name first, then value), you can change the reading order by activating the checkbox below the input textfield.
-- To reduce the possibility of mistakes the three champion disciplines have to be imported separately.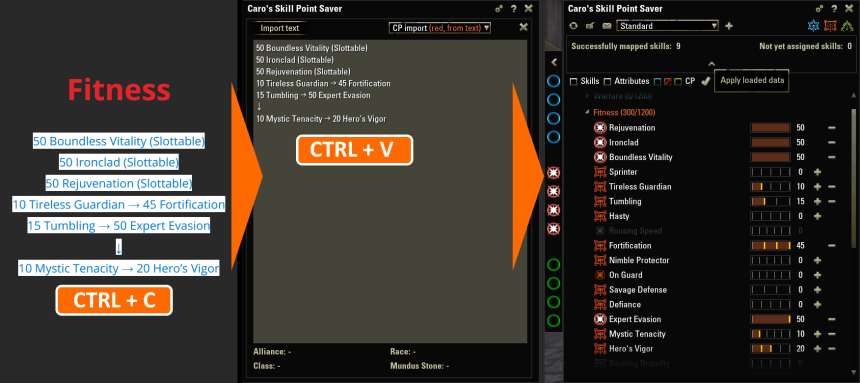 Planned for the future:
- import/export for more platforms
- integration of the champion point hotbar profiles with dressingroom / alphagear sets
Attention for update 29: Please test on a twink first after the update, as I can't guarantee that the changes from Update 29 won't effect the addon's funcionality (though I test everything on the pts of course).
Current languages: English, German (if you would like to translate to other languages, contact me)
Many thanks to Baertram for his invaluable help!
Many thanks to Keldor for allowing me to use his mappings for eso-skillfactory and for his great work with that website.
Thanks to TC Lee13 / The Tank Club for letting me include their tank cp presets.
Thanks to Skinny Cheeks for providing the cp presets for damage dealers and his helpful advice.