ESOUI
(
https://www.esoui.com/forums/index.php
)
-
Minion
(
https://www.esoui.com/forums/forumdisplay.php?f=183
)
| | |
| --- | --- |
| Square252 | 07/13/19 04:27 AM |
---
Minion ignores Date format of system

Hello,
Minion shows the stupid MM.DD.YYYY Format for the last updated add-ons resulting in a completely wrong list when sorted after update date.
Please change it to the system default or use a sane format like YYYY.MM.DD or DD.MM.YYYY as i can't seem to find any option to change that.
I don't want to insult any americans, but the MM.DD.YYYY format is the most stupid format in the whole world and makes any sortable list broken....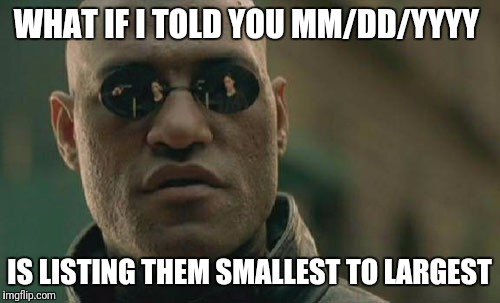 | | |
| --- | --- |
| sirinsidiator | 07/13/19 06:46 AM |
---
No worries. I am as annoyed by this as you are and it's on my list for Minion 4. ;)
| | |
| --- | --- |
| Square252 | 07/13/19 03:34 PM |
---
Awesome :)
Thanks a lot for the feedback, from what I've read, minion 4 will be brilliant! Even if it's already the best add on manager I've used so far. Good job so far in the current version (besides the date formatting :p)
All times are GMT -6. The time now is

07:58 AM

.
vBulletin © 2020, Jelsoft Enterprises Ltd
© 2014 - 2020 MMOUI